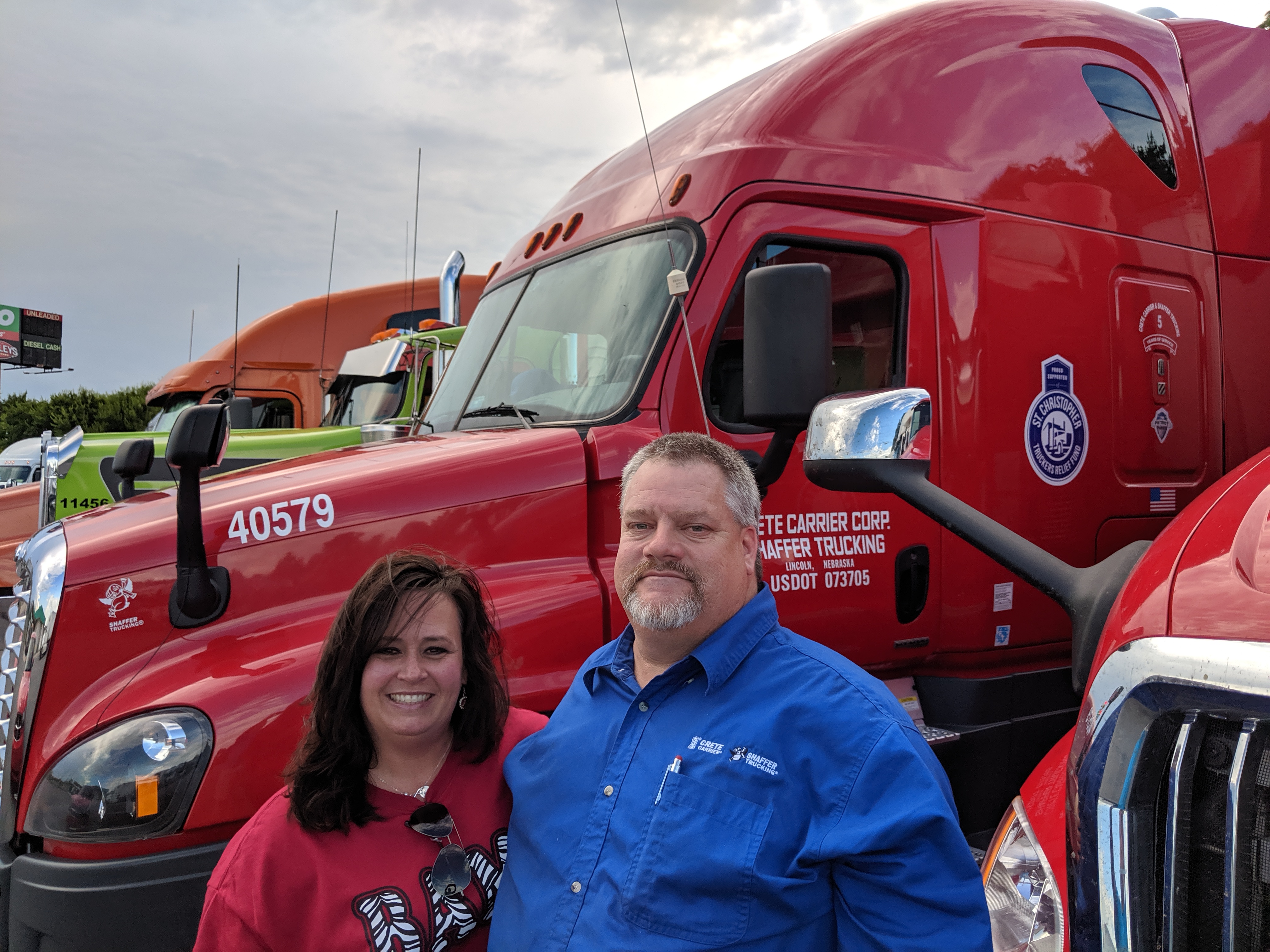 When you start working in the trucking industry, you learn very quickly that life would look drastically different without truck drivers. Five years ago I started working at St. Christopher Truckers Relief Fund and fell in love with this industry. I've learned a lot of terminology, learned the difference between a company driver and a lease/owner operator, learned about some of the health and wellness issues that drivers face, laughed with drivers at truck shows, and cried with drivers and their spouses on the phone as they applied for assistance. But, the one thing I had never done was spend more than a couple of hours in a semi-truck learning what daily life looks like for a truck driver. So, I decided to do just that.
I am on the Tim Ridley Show on Radio Nemo, XM 146, twice a month and, over time, became familiar with a driver named Craig – the Nemo crew and listeners know him as 'Ten Ring'. After hearing me talk about being from the Montgomery, AL area, and hearing my interest in doing a ride along, Craig reached out. He too had lived in this area and we had some mutual friends. Craig was willing to ask his company about taking me on the road for a week. Craig drives for Crete Carrier and, after meeting their President and COO, Tim Aschoff, at MATS 2019, I was approved for a ride along. We set a week in July and put it on the calendar.
My goal was to raise awareness of the SCF, promote our 10th annual Band Together campaign with TravelCenters of America by stopping at locations along our route to meet drivers and employees that supported the Band Together campaign, to learn more about the challenges that drivers face every day, and to show others what trucking is all about, as well as try and get young new drivers to become interested in being a truck driver, sharing resources such as this traffic school online that offer fleet training services that can enable such people to pursue being a trucker. I was beyond excited!
We were scheduled to leave out of Montgomery, AL on Monday, July 8th and return home Saturday July 13th. But, as the saying goes – "that's trucking" applied from day one. I already knew I had to be flexible in this industry and that flexibility started when I got a call Sunday morning saying I needed to be ready to go by 5 PM that afternoon, instead of Monday morning. So, I took off running (I hadn't packed anything yet!), got all of my errands done, got everything packed, even grabbed some food to cook on the truck, and took off to the Petro in Shorter, AL where my husband was dropping me off with Craig. We made it in plenty of time, got everything loaded, and then took off to Atlanta, GA to spend the night on the Crete lot to be ready for an early pickup Monday morning. This particular facility was under renovation, so the main building was closed when we arrived that evening. Thank goodness there was at least a restroom available until morning!






As we started moving that first day I found myself watching the gear change. If you've never seen the inside of a truck, take a look at this 10 speed. It's pretty cool!
To get the full experience, I slept on the top bunk for the week. The first night on the truck was definitely an experience! Craig's truck is a reefer unit, which wasn't running that night, but the truck itself runs on an idle cycle all night. The truck starts and stops at intervals all night long so the air condition can run. I can't say I slept much that night because I woke up pretty much every time the truck started and stopped. The entire truck shakes every time it starts and stops and it's not a quiet process!
Monday morning we woke up at 5:15 AM for showers then we took off to pick up a load of paper that was delivered locally in the Atlanta area. Atlanta traffic was crazy busy, of course! I saw people doing things in cars they should never be doing while driving! I about sucked in the windshield when a taxi cut in front of the truck where there was clearly not enough room for a taxi to be. From that first day, I thought we should all spend a week in a truck before we get our driver's licenses-lol!
I had lots of questions as we drove each day. Do you know the difference between having a trainee and being a team driver? Today I learned how different the driving responsibilities are in each situation. Very interesting!
Once this load was delivered, we were supposed to head North and go through MO, IL, and up to NE to the Crete home office, then make our way back down through KY and home to AL. But, before the afternoon was over, we were saying "that's trucking" again when our entire route was changed because the planned load was cancelled. So, we grabbed a load of Wrigley's gum to deliver in Irving, TX then headed BACK to Shorter, AL to spend the night at the Petro where we started.
Have you caught on that we went through Atlanta 3 times yet? LOL
Once we got back to Shorter, AL, we made burritos on the truck with taco meat I brought from home, had some ice cream from the Petro, and vegged out with some 'Friends' on TV before getting some rest for the night.
Tuesday, we were back at it at 5:45 AM and were making our way toward Demopolis, AL. We made a stop at the TA in Meridian, MS for fuel and a bathroom break. We also got to meet and thank some of the employees and customers for supporting drivers through the Band Together campaign by buying bands. It was so great to thank people in person, give them a hug, and get some pictures to share.


Leaving Meridian, we headed to Shreveport, LA where we stopped at the Petro for the night. I have to stop here and tell you that the roads going through LA need some repair–wow! I was bouncing all over the truck! I can see how drivers have back, neck, and shoulder problems. I had to take some ibuprofen before that day was out!
The Petro in Shreveport was great! We met some friends, some employees, and their super friendly wait staff. We had an amazing dinner: Craig and I both had StayFit meals (the healthier menu options) because I wanted to see if they were good so I could encourage drivers to choose the healthier options available to them. I had salmon, veggies, and the salad bar. Craig had steak, green beans, and the salad bar. Both meals were fantastic and I'm pleased to recommend them. Thank you TravelCenters of America for having these options available for drivers to choose. I promise they are good and it's PLENTY of food!









Wednesday morning we left the Petro in Shreveport and headed out to deliver our load of gum in Irving, TX. This was supposed to be a simple drop and hook–drop the load of gum and pick up an empty trailer. But, it wasn't until 3 hours later we were leaving the facility, without an empty trailer, and with me asking why in the world it took so long for paperwork to be approved. Craig must have done a great job of having his paperwork in order because we watched several trucks sit for 15-20 minutes before being approved to move, but we were done in 5 minutes or less. Now we were bobtailing and on the hunt for an empty trailer at the Crete yard in Wilmer, TX. It was a good evening – we made it to the yard, found an empty trailer full of fuel and ready to be used, then we ordered pizza for dinner. Pizza is my favorite food, by the way!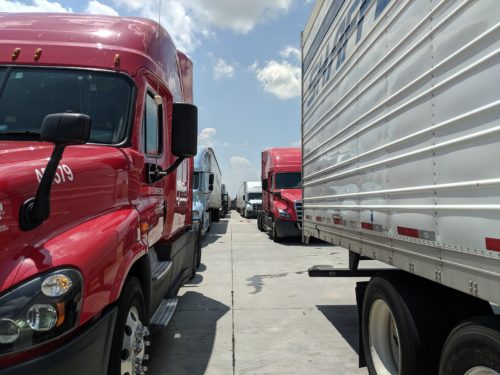 Thursday morning we were up early for showers, coffee, and to do our pre-trip inspection. This was a great lesson because professional drivers do so much more than sit behind a steering wheel. The pre-trip inspection makes sure the vehicle and trailer are in proper working order before you drive for the day. Drivers check the lights, gauges, tires, hoses, and more. It takes about 15 minutes to do but is a required, vital part of driving safely. If a truck has semi trailer automation, it will improve the safety of the truck but that also needs to be checked as part of the daily safety routine. Tires are vital and the automation system allows semi trailer landing legs to wind up safely. Not only are they checking for safety, they also check the inside of the trailer to make sure it's clean and ready for a new load. Craig used his blower to clean the inside of the empty trailer, but some drivers may use a broom. Did you know drivers carry extra supplies like this on the truck?
Once we were pre-tripped and ready to go, we headed off to Garland, TX to pick up a load of sour cream at Daisy. Backing into a dock or a parking spot fascinated me all week. It's definitely a talent that takes a lot of practice! Wait time at the dock here was about an hour, so not too bad. I did get to meet someone new as a driver walked across the parking lot with a Blue Tiger SCF headset on. I had to get out, say hello, and get a picture. I love being able to thank drivers in person for supporting their fellow drivers by supporting SCF. Thank you all!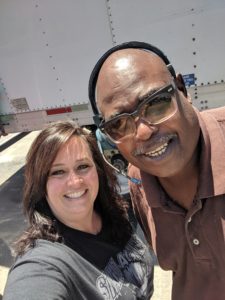 We made it from Garland, TX to Greenwood, LA where we ran into an accident on the interstate that had traffic at a standstill. Like, hours worth of a standstill. Some of the victims involved were even talking about getting in touch with a truck accident lawyer, as we could see that there were some injuries that some people sustained. This must have been quite scary for them involved. No one expects to see anything like this, but it does happen.
Anyway, since we had plenty of time to make our destination on Friday, we decided to stop for the night before all the parking spots were gone. Parking can be a huge issue in some areas and we wanted to be sure we had a safe, secure, legal place to park.
I think Craig saved the best and worst for last day. On my final day on the truck we had to be up at 4 AM. Craig and I wanted to get me home at a decent hour so I would have time to unpack and rest instead of rolling in and having to go straight to bed. I sure appreciated that because my husband and I were able to have dinner with Craig before we said, not goodbye, but see ya later.
That final day I got to experience rolling through a scale, see how the weight shows up, and how you know if you need to move your tandems. We also went through a scale house where I got to go in to talk with Officer Cullins about the scale house procedures, and what they look for when trucks are rolling through. They did have a truck pulled in for inspection but I wasn't about to walk over there and start asking questions! LOL.


Another thing I learned that last day is that climate and elevation play a roll in how and where a driver goes. Sometimes a longer route is needed to avoid sudden elevation changes so potato chip bags don't burst, ice cream tops don't fly off, or candy bars don't explode. Drivers have a lot of details to pay attention to.
In the final hours, we bounced back through Louisiana and made it for my drop off in Hope Hull, AL by mid-afternoon. It was great to get back in enough time for us to have dinner together and laugh about all the fun we had. Craig and really I hit it off and the trip was a great experience. We talked, we worked, we sang, and I couldn't have asked for a better first week on the road.


A huge thank you goes out to the SCF Board and staff for supporting and encouraging this ride along; to TravelCenters of America for allowing us to stop at various locations throughout the trip to say hello to staff, thank them for their support, and share photos of my experience; to Crete Carrier for letting me gain some new knowledge with such a kind and professional driver; to Craig for letting me invade his space for a week, for answering all of my questions, and for singing along with me in the truck; to both of our spouses for supporting us every day on this trip.
I am very grateful for this opportunity. I have gained knowledge and experience that will help me and the SCF serve drivers better. Through my experience, I hope others will learn more about life on the road, and that they will see the difficulties and sacrifices drivers make to get us all of the things we want and need. Until next time!