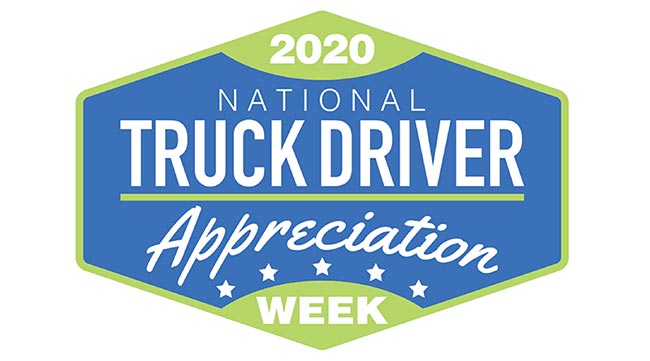 National Truck Driver Appreciation Week for 2020 is upon us!
Fleets and others in the industry are rolling out the red carpet Sept. 13-19 to show truck drivers appreciation for all they do, which is vital in any year but has been magnified even more in 2020 due to the industry's response as essential workers to the coronavirus pandemic. Be sure to check out our Trucking's Frontline Heroes project, also released this week, which pays tribute to drivers and others who went above and beyond the call of duty to keep critical food supplies, products, medicines and medical equipment moving during the crisis.
Check back on this page all week to see the different ways drivers are being recognized. Use the hashtag #NTDAW2020 on social media.
September 13-19 is National Truck Driver Appreciation Week and we are so excited to celebrate! For active Panther contractors, join our private Facebook group, Behind the Wheel with Panther, for exclusive group giveaways this week, too. #NTDAW2020 #ThankATrucker 🎉 pic.twitter.com/PFLzCABvQu

— Panther Premium Logistics (@PantherPremium) September 13, 2020
Get ready pro drivers. Driver Appreciation Month is just around the corner and we're celebrating with FREE drinks all month long only in the Pilot Flying J app. pic.twitter.com/PuZdJOXeWH

— Pilot Flying J (@PilotFlyingJ) August 28, 2020
Pilot Flying J
Pilot Flying J – This September we make way for professional drivers that are keeping America moving with our best Driver Appreciation Month yet. We're celebrating with free drinks, more points, and free showers after a single fill — all in the app. Download now to claim your rewards!
From TSAs and technicians, clerks and porters, cooks and servers and from our headquarters, thank you, truck drivers.

It isn't the easiest road, but we see the hard work and long miles, and we're grateful. Happy #NationalTruckDriverAppreciationWeek! #TADriverAppreciation #NTDAW pic.twitter.com/Yq0ysKr40Z

— TravelCenters of America (@TATravelCenters) September 13, 2020
TravelCenters of America
Enter the TA Driver Appreciation Swipestakes for your chance to win! We aren't going to limit our thank you to just National Truck Driver Appreciation Week! In fact, we are saying, "thank you" all month long with the TA Driver Appreciation Swipestakes! To enter, simply swipe your UltraONE card at the pump, Truck Service shop or UltraONE kiosk at any TA, Petro or TA Express location in the country. Find more details below.
Stop by during National Truck Driver Appreciation Week for even more! Between Sept. 14-18, you get even more! Use the TruckSmart app to book select services for half price*! And, on Sept. 16, earn DOUBLE your Gear's points on fuel purchases. Find more details here.
Be sure to tune in to TCA and @tenstreet's special hour-long @DaveNemoShow Tuesday at 9 a.m. ET as @WreathsAcross's Don Queeney shares special announcement and thanks #truckdrivers. #NTDAW2020 #trucking #transportation #truckload https://t.co/mFwm8haJyl

— Truckload Carriers Association (@TCANews) September 14, 2020
Truckload Carriers Association
The Truckload Carriers Association (TCA) and its sponsor Tenstreet will be hosting a special hour-long segment on the Dave Nemo Show (SiriusXM Channel 146) beginning at 9 a.m. ET on Tuesday, September 15 during National Truck Driver Appreciation Week (NTDAW).
Help TCA and Tenstreet spread the word by encouraging your professional truck drivers to tune in for the event which will feature:
Numerous "Thank You" messages geared toward the driver population from television entertainers and well-known musicians;
Chances for drivers to win giveaways; and
Special announcement and recognition from Wreaths Across America (WAA);
Special announcement and recognition from Vietnam Veterans Memorial Fund (VVMF);
A special performance from the U.S. Army Field Band's Six-String Soldiers.
Offer extended! Through Sept. 20, professional drivers can receive free TirePass inspections and half-priced DOT inspections at Love's Truck Care and Speedco locations, which is the nation's largest oil change and preventive maintenance network.https://t.co/c63qbQ5F28 pic.twitter.com/Gul9fdcKgy

— Love's Travel Stops (@LovesTravelStop) September 10, 2020
Love's Travel Stops
Celebrate National Truck Driver Appreciation Week throughout the entire month of September.
Love's Travel Stops My Love Rewards members can also take advantage of deals on fresh food, snacks and drinks all September. And from Sept. 14 through 18 – National Truck Driver Appreciation Week – drivers can get up to 5,000 My Love Rewards points (equal to $50) with the purchase of certain products.
For the first time, Love's is celebrating with a 4-million-point giveaway. Each week, a different driver will win 1 million My Love Rewards points (equal to $10,000). For a full list of promotions click here.
Averitt Express
Averitt Express will be holding giveaways and numerous events throughout its network. For the grand prize, five over-the-road drivers will have their names drawn to be assigned a brand-new Freightliner truck. Additionally, there will be daily prize drawings for CB radios, wireless headsets, GPS units, gift cards, televisions, tables, iPads and more. Prize winners will be listed here. Meals also will be provided.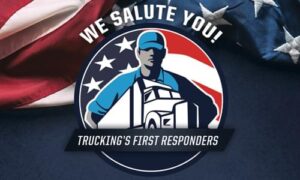 Red Eye Radio
We all know that our listeners are the ones keeping the shelves stocked and our pantry full. And in this time of uncertainty and need, the trucking industry always shows up and delivers. That is why during the months of August and September… through Truck Driver Appreciation Month, Red Eye Radio will be recognizing a truck driver every night on air. We want to highlight our own industry's first responders and say thank you. Our driver's commitment to moving America will be a focal point on Red Eye Radio this summer. Our Truckers Drive and Determination is what truly has helped this country make it through the COVID-19 crisis. Stay tuned for more information on our recognition program starting in August. Learn more here
Landstar System, Inc.
Landstar System, Inc. will be giving away a Freightliner Cascadia 126 to one of its 10,000 Landstar owner-operators in its 2020 Deliver to Win Giveaway. The winner will be announced Sept. 18 via a Zoom call and shared on Landstar's social media accounts, including Facebook.
PodWheels Network

Cookies Deliver Appreciation – Brenny Transportation Founder Continues Sweet Tradition For Her Fleet. Learn more here.