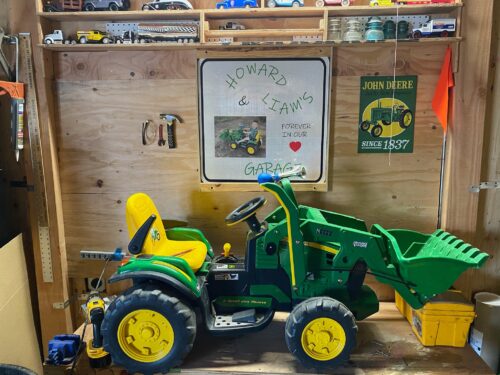 KNOXVILLE, Tenn. – January 1, 2021 – With a heavy heart, the St. Christopher Truckers Relief Fund delivers sad news this new year. 5 year old Liam Salmon, who has made a lasting impression on this industry, his community and this entire country, passed away on New Years Eve. Liam is the son of twenty-four-year trucking veteran Howard Salmon and his wife, Mary, who live in Anderson, California.
In January 2020, Liam was diagnosed with DIPG, a rare pediatric brain tumor, that affects the pons portion of the brainstem that controls breathing, sleeping and balance. There is currently no cure for DIPG, which has a 0% survival rate. Liam fought hard while receiving experimental treatment this last year but sadly lost his battle with this terrible disease.
SCF had the privilege of providing the Salmons assistance when Howard had to come off the road to be with Liam while he was fighting this brain tumor. Howard and Liam also graciously agreed to be on the marketing materials for TravelCenters of America's 'Be A Champion of Change' fundraiser benefiting SCF. You often saw their picture alongside SCF's goal thermometer as well.
"Liam touched so many lives in his short life. This trucker's son was a 'mini me.' His name will remain in the hearts of many people. He wanted Daddy to be able to help other kids, so that is what we will be doing from now on. Liam taught me the meaning of love. Thank you to all of those that helped his last year be special. Drivers, please take it from me…make every day with your family full of love," Howard Salmon.
Our continued thoughts and prayers are with Howard and Mary as they continue their journey honoring Liam by helping other kids affected by DIPG.
About St. Christopher Truckers Relief Fund The St. Christopher Truckers Relief Fund (SCF) helps over-the-road/regional semi-truck drivers and their families who are out of work due to a recent illness or injury. Assistance may be in the form of direct payment to providers for household living expenses such as, rent/mortgage, utilities, vehicle payments, and insurance. The SCF also provides health and wellness programs such as free vaccines and smoking cessation. For more information, visit TruckersFund.org.
Condolences and Support for Salmon Family:
Howard Salmon
6028 Calin Lane
Anderson, CA 96007