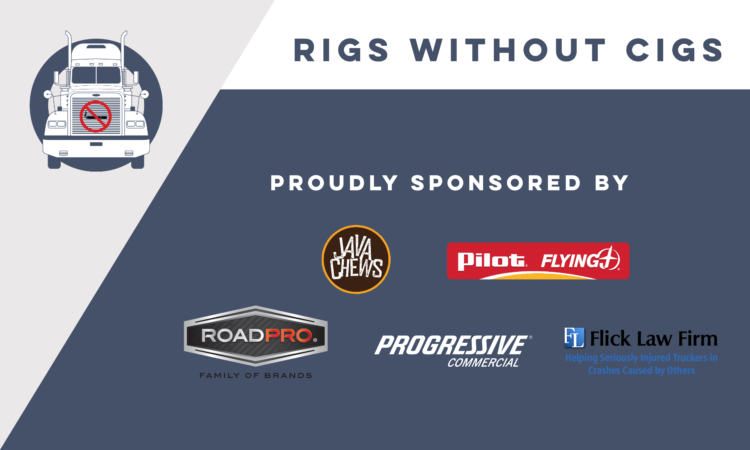 Want to quit smoking or using tobacco products but don't know where or how to start?  Thinking that you'll never be able to stop?  You are NOT alone!  There are many other professional drivers on the road feeling the same way.   There IS hope!
Be a part of the driver movement to drive a Rig Without Cigs. The St. Christopher Truckers Relief Fund, along with some fantastic sponsors, is offering smoking cessation program to help drivers and their families break the nicotine habit.  The program is an ongoing program and drivers can join the program at any time throughout the year.
Each driver that signs up be a part of the program will fill out an online informational questionnaire. After receiving the information, SCF will provide information on how to break the chains of nicotine.  The St. Christopher Fund will provide bi-weekly encouragement and accountability and create a network of support from fellow drivers.
We will help drivers identify and beat their tobacco triggers. The SCF will explain how nicotine addiction works and what methods of smoking aids, along with alternative therapies are available to them.  It is highly recommended that each driver receive a consultation with a tobacco cessation doctor/counselor to decide the best method of treatment for each individual. SCF will provide information on how to obtain that consultation.
You can register for the program HERE or if you have questions or would like more information on the tobacco cessation program email Julie Dillon at julie@truckersfund.org .
  Rules and Regulations
All semi-truck drivers and others in the trucking industry can participate in the program.
All participants are strongly encouraged to have a medical consultation before beginning the program.
All  participants must have an active CDL.
All  participants must be a resident of the United States.
Friends and family are encouraged to participate but will not be required to track progress and are not eligible for free smoking cessation tools..