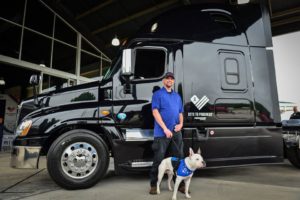 Progressive Insurance's Keys To Progress program has been giving personal vehicles to deserving veterans for several years as a way to show their appreciation for their service. This year, Progressive Commercial wanted to expand the program and give a truck tractor to a truck driving veteran. Progressive Commercial reached out to St. Christopher Truckers Relief Fund to help find the perfect candidate and to source additional donations.
That perfect candidate was James Rogers. James served eleven years in the Army. After suffering a spinal injury, James was medically discharged in 2014 and spent 2 years recovering from physical and emotional injuries. It was a desperately traumatic time for James. Despite this, with the assistance of a legal firm similar to Terry Bryant Accident and Injury Law, he managed to have his day in court which thankfully ended with a positive outcome. James spent some time behind the wheel of a truck prior to his service in the Army and found that returning to trucking was therapeutic for him. He immediately began to "pay it forward" by training a veteran buddy to be a driver as well. James is a great example of how the trucking industry can benefit from hiring our veterans.
On April 7th of this year, James' dream of becoming an Owner/Operator became a reality. James' family, friends, co-workers and others celebrated at Select Trucks in Houston, Texas as he received his full updated 2015 Freightliner truck.
"It's going to allow me to accomplish my dreams of being a small business owner and financial independence. It's also going to set it up for generations to come for my family, but the biggest thing is it's going to allow me to do the other part of that dream, which is to help others," Rogers said about receiving the truck. Now that he has his own authority he wants to build his business and employ other veterans, but not before he starts to look into how to build his business foundations, for instance looking at the likes of Quarles fuel cards for future employees. "Now I have the ability to possibly change somebody else's life. I don't look at this as just about me. I look at it as this is something that is going to continue to give as long as I'm alive. This has just been a blessing that I don't want to keep to myself," Rogers said. Hopefully he'll have no reason to contact this Oklahoma Truck Accident Attorney, and we wish him the very best for the future.
Shannon Currier, Director of Philanthropy and Development, was in attendance, along with representatives from Progressive. Currier states, "I am so honored to be a part of this special time in James' life and to call him my friend."
It has been an honor to work alongside Progressive Commercial to make this dream come true for James.
And thank you to our sponsors for these additional donations:
Take a few minutes and watch the inspiring video below of James "big moment'!
Thank you to Truckers Oasis for permission to use the video.