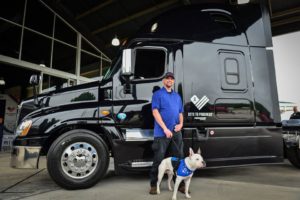 Recently, James Rogers a trucking veteran was awarded a Freightliner truck in the first 'Keys to Progress Truck Giveaway'. Progressive Insurance's Keys To Progress program has been giving personal vehicles to deserving veterans for several years as a way to show their appreciation for their service. This year, Progressive Commercial wanted to expand the program and give a truck tractor to a truck driving veteran.  Progressive Commercial reached out to St. Christopher Truckers Relief Fund to help find the perfect candidate and to source additional donations.
On this page you will find many articles, interviews, radio shows, etc covering this monumental event.  St. Christopher Fund is honored to be a part of this special time in Mr. Rogers journey of owning his own truck and authority.
We have videos to share:
Progressive Trucker Territory Keys to Progress
Interview from Rag Chew Productions
Raw Footage of Progressive Truck Giveaway  credit to Tim Bristow with Metro Video Services, Houston
Check out the following links to some of the articles:
SCF Keys to Progress Truck Give Away
Below are a few of the radio interviews:
Red Eye Radio with Eric Harley
Thank you to everyone who covered this event!  You each played a part in making this a milestone event in SCF history and in James Rogers' life. It has been an honor to work alongside Progressive Commercial to make this dream come true for James.