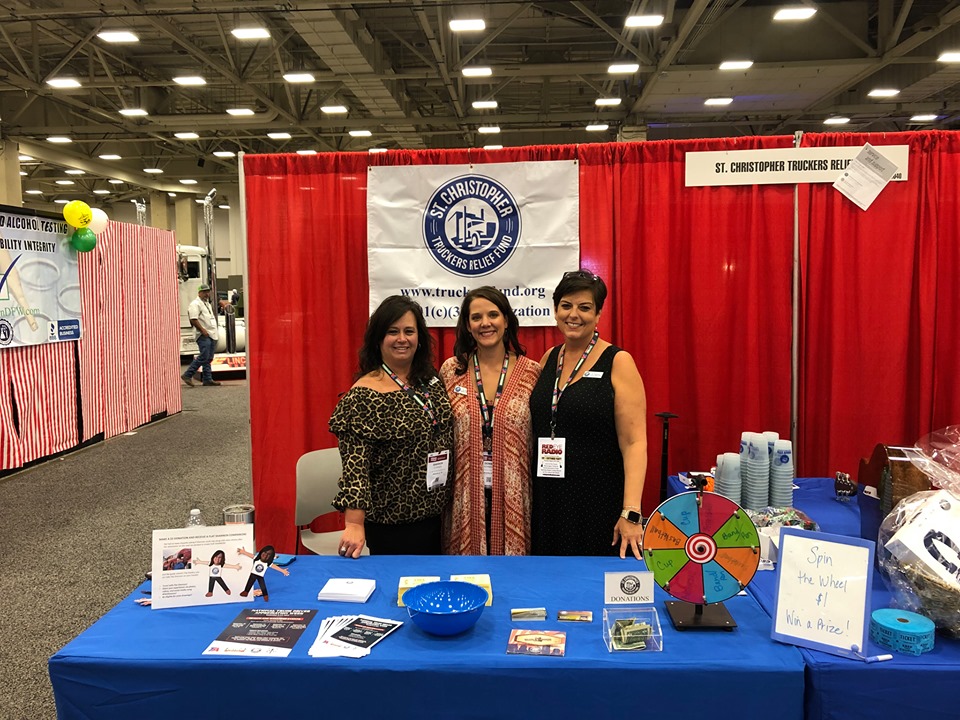 DALLAS, Texas (Aug. 28, 2019) – Thousands of guests came out to support St. Christopher Truckers Relief Fund (SCF) Thursday, Aug. 22 through Saturday, Aug. 24 at the 20th Annual Great American Trucking Show.
A grand total of $21,218 was raised for the nonprofit from various efforts including: silent and live auctions, dunk tank volunteers and donations, all proceeds from the first-ever American Pride Truck Charity Event, donations from Flaming Grill Bar-B-Que, along with individual donations garnered at the SCF and TA/Petro booths, and from generous visitors in the show's parking lot. Riteload.com also offered parking lot attendees a refreshing cool-down with free ice cream vouchers.
"With the generosity of this year's attendees, I am delighted to announce we have surpassed last year's donations," said Shannon Currier, Director of Philanthropy and Development for St. Christopher Truckers Relief Fund. "We especially want to thank RoadPro Family of Brands, Southern Recipe and Progressive Commercial Insurance, our stage and tent sponsors, for their part in achieving this goal. In addition, we cannot forget our wonderful parking lot organizers, Les Willis and Tom Winters, and the entire GATS team for letting us do exciting new things to raise money and support our drivers. We look forward to seeing everyone next year!"
"We could not ask for a better organization to work with than St. Christopher Fund and we are happy to support SCF in their efforts in helping drivers," says Les Willis, GATS parking lot organizer.
Hattie Jane Rollins of DPF Regeneration donated $3,000 alone to see Tony Justice and Bill Weaver take a dip in the dunk tank sponsored by Rick Ash, a retired Landstar owner/operator, and SCF board member. As a popular attraction, the tank was able to raise $5,319.
"As a proud member of the St. Christopher Fund Board of Directors, I thought this would be a fun way to raise money for the fund. I knew there would be no shortage of supporters willing to 'dunk' themselves in the Texas heat to support our cause," states Rick Ash. "It was successful beyond my wildest expectations. Thanks to all who donated and got wet!"
The three-day event also featured entertainment sponsored by Heniff Transportation. Country legend, Leon Everette, along with annual-favorite truck driver artists Bill Weaver, Tony Justice, Ken Freeman, Paul Marhoefer, Mandi Jo Pinheiro, Brad James, Terrance Mathis, and the Overdrive Trucker Talent Search winner Taylor Barker, provided great shows and support. The artists were backed by veteran country-rockers, Stone Creek Four of Kingsport, Tennessee, who ended the trucking show with an impressive rendition of 'Free Bird.'
The event's 2nd annual auction, emceed by Samuel Currier, was another crowd-favorite which brought in large donations from Richard Conaway for a bobblehead of SCF's own Shannon Currier, a handmade Washburn guitar, won by Karmen Anderson and autographed by Joe Nichols, SCF's country music partner, and thoughtfully donated by Les Willis of Godspeed Expediters. Other auction items included a Lord of the Rings sword, a tire services basket from TA/Petro, and a RoadPro PowerDrive 1000-Watt Bluetooth Pure Sine Wave.
"The St. Christopher Fund's mission aligns with our goal to meet the needs of drivers and we are always thrilled to have SCF join us at GATS. We are pleased to hear the events in truck parking were a hit with the drivers and brought huge support for SCF. We are honored to be part of SCF's fundraising efforts," says Tom Winters, Director of Audience Experience, Randall Reilly.
The first-ever truck show within a truck show, the 'American Pride Truck Charity Event,' was held in the TA/Petro Truck Parking Community and hosted 38 participants. Categories included Company Driver, sponsored and judged by National Truckin' Magazine; Owner and Lease Operator, sponsored and judged by RoadPro Family of Brands; Light 'Em Up, sponsored by Boogey Lights and judged by Mother Trucker Yoga; Dressed to Impress, sponsored by 4 State Trucks and judged by Fleet Mattress; and Peer's Choice, sponsored by Spartan Direct LLC and voted on by show participants.
Winners of all categories were announced during the live auction. Mark and Holley O'Donnell received first place in the Owner Operator/Lease category, followed by James Shelley in second place and James Rogers in third. Scott Hampton claimed first place in the Company Driver category, followed by Bruce Richard in second and Robert Barnette in third. For the Dressed to Impress category, Mark and Holley O'Donnell received another first place award, followed by Shelle Lichti in second and James Shelley in third. The Light 'Em Up category named James Shelley as the first-place winner, followed by Mark and Holley O'Donnell in second and Scott Hampton in third. Mark and Holley O'Donnell also claimed the Peer's Choice category's overall winner.
Since its inception in 2007, the St. Christopher Truckers Relief Fund has been dedicated to helping over-the-road and regional semi-truck drivers and their families when an illness or injury has caused them to be out of work. The truck driver charity has helped 2,665 drivers and counting. For more information regarding SCF, please visit www.truckersfund.org or follow along on Facebook, @truckerfund.
To apply for assistance from SCF, click here. To donate to SCF's mission to support truckers and their families in financial need, click here.