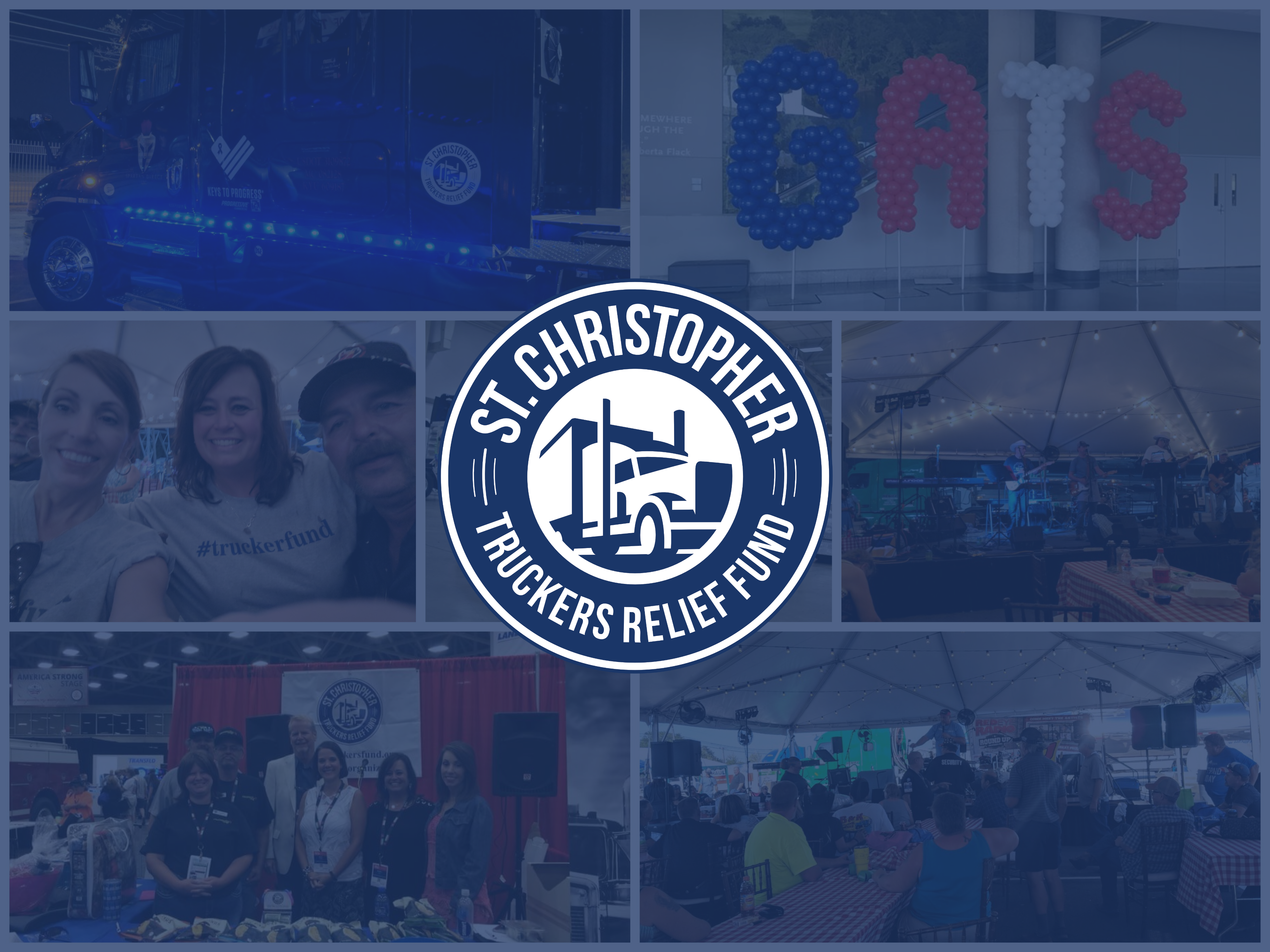 DALLAS, Texas (Aug. 8, 2019) – St. Christopher Truckers Relief Fund will be hosting booth No. 4040 in the Health Pavilion at the Great American Trucking Show. The show is located at the Kay Bailey Hutchison Convention Center and is a multi-day event spanning from Thursday, Aug. 22 through Saturday, Aug. 24
"We always look forward to working with The Great American Trucking Show team. The support we see at GATS from the show team, from drivers, and from corporate connections is invaluable to us. We are excited about the events offered at this year's 20th Anniversary show and can't wait to see everyone," states Shannon Currier, Director of Philanthropy and Development for St. Christopher Truckers Relief Fund.
Throughout the three-day event, attendees can participate in product raffles from Blue Tiger Bluetooth at the SCF booth, as well as a live auction, a dunk tank and the 'American Pride Truck Charity Event' in the TA/Petro Truck Parking Community. The Blue Tiger Bluetooth raffle tickets are $1 each, with one winner being announced each day of the show. The three prize packages will include a blue SCF-branded elite headset, elite plus convertible headset, or advantage plus headset, each accompanied with a universal headset case, a three-pack of universal microphone covers, dash mounts and SoundPOD Bluetooth speakers. 100 percent of proceeds from all events will benefit St. Christopher Truckers Relief Fund.
A dunk tank, sponsored by Rick Ash, will have some of our favorite entertainers and celebrity guests Friday and Saturday nights from 6:30 p.m. until 10:00 p.m. Don't miss the opportunity to dunk Eric Harley, Jacinda Duran, KC Phillips, Mandi Jo Pinheiro, Brad James, Les Willis, Elizabeth Sweet, Cheryl Ibana-Bean, Paul Marhoefer, Tony Justice, Bill Weaver, Taylor Barker, Ken Freeman, and SCF's Shannon Currier. Be sure to check out the full entertainment schedule on the GATS website.
The 'American Pride Truck Charity Event' will be the first ever truck show within a truck show held at GATS. Categories include Company Driver, sponsored by National Truckin' Magazine, Owner/Lease Operator, sponsored by RoadPro Family of Brands, Light 'Em Up, sponsored by Boogey Lights, Dressed to Impress, sponsored by 4 State Trucks, and Peer's Choice, sponsored by Spartan Direct LLC.
Judging will take place on Friday, Aug. 23 at 6:30 p.m., with judging for the Light 'Em Up category starting at 8:30 p.m. Attendees can register to participate in the 'American Pride Truck Charity Event' online at truckersfund.org/american-pride-truck-charity-event until Aug. 19 at noon. Onsite registration will be open in the TA/Petro Truck Parking Community Thursday, Aug. 22 from 9:00 a.m. until 5:00 p.m. and Friday, Aug. 25 from 9:00 a.m. until noon. Entry fee is only $5 per category and winners, who must be present to win, will be announced during the live auction in TA/Petro Truck Parking Community, Saturday, Aug. 24 between 4:30 p.m. and 7 p.m. Judges for the 'American Pride Truck Charity Event' include Kim McDonnell with RoadPro Family of Brands, Jerry Hayes with National Truckin' Magazine, Rick Cassidy with Fleet Mattress, and Eric Harley with Red Eye Radio.
The nonprofit will also be launching the 'Adventures of Flat Shannon' at the SCF booth. SCF's Shannon Currier recently spent a week in a semi experiencing life as a truck driver and learning firsthand what drivers go through each day. Wanting to continue learning but unable to be in a truck every day, the idea of 'Flat Shannon' was born. For a $5 donation, get your own 'Flat Shannon' as a fun way to share life on the road. Travel with 'Flat Shannon', share your experiences via photos, videos and social media, and be entered to win a prize. Details will be available at the SCF booth and online starting the week of Aug. 12. Those who wish can read about Shannon's week on the road in the blog post titled, 'That's Trucking: Adventures of a Jump Seat Rookie'.
The St. Christopher Truckers Development and Relief Fund is a truck driver charity helping over-the-road and regional semi-truck drivers and their families when an illness or injury has caused them to be out of work. Since 2008, SCF has helped 2,649 drivers and counting. With driver application form software processing various applications for recruits, it great to know that a charity such as this exists to make the life of truckers betters.
For more information regarding SCF, please visit www.truckersfund.org or follow along on Facebook, @truckerfund.
To apply for assistance from SCF, click here. To donate to SCF's mission to support truckers and their families in financial need, click here.